ONLINE BOOKING SYSTEM

Las reservaciones están garantizadas gracias al pago anticipado del 10% del total del costo del puesto cama (más 2 € por costos administrativos del servicio).

Todas las informaciones que recogemos son transmitidas a través de una conexión segura con certificado SSL a 128 bits firmado por Thawte, empresa lider mundial en la certificación de seguridad. El símbolo del candadito que aparece en tu browser indica que estás utilizando una conexión segura.




Castello dell'Oscano+Villa Ada

<!A href=javascript:openWindow('/image/2_0002140_1_big.jpg')>


Nombre
Castello dell'Oscano+Villa Ada

Categorìa
hotel ****

Dirección
Strada della Forcella 37 Perugia loc. Oscano







Alcobas privadas a partir de 65,00 EURO por persona por noche


Tarjetas de crédito aceptadas
Reservaciones en línea
<!A href=javascript:openWindow('/image/2_0002140_2_big.jpg')>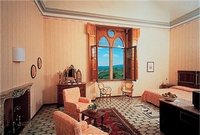 <!A href=javascript:openWindow('/image/2_0002140_3_big.jpg')>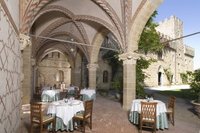 <!A href=javascript:openWindow('/image/2_0002140_4_big.jpg')>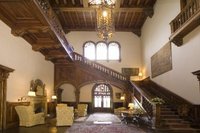 Oscano' So I Would Like To Welcome You To Take A Look At Our Three Properties: The Neo-Gothic Castle, The Villa Ada And La Macina Dell'oscano. In The Castle There Are Between 11 Suites And Jr.-Suites Of About 40-50 Square Metres, All Of Them Furnisched With Lovely Antique Style From The 17-18 Century. Villa Ada Is Situated Only Ten Meters From The Castle, This Annexe Has 21 Four Stars Category Rooms Of Medium Size Where The Forniture Is Classical And Very Elegant, But Not Original-Antique As Inside The Castle. At The Bottom Of Our Centuries Old Trees-Park Of About 250 Hectars, Is Situated 'La Macina Dell'oscano'. Here We Have 13 Self-Contained Flats, Which, Are Simples, But Provide Every Comfort. Every-One Of These Apartments Is Able To Occupy Up To 7-8 Persons, Depending On How Many Rooms You Need. Dinner Is Served In The Traditional Spirit Of The Castle And The Original Kings And Counts Who Lived Here Many Years Ago. The Menu Is Selected Daily By The Chef Based On Fresh Seasonal Products From The Region. Cancellation Policy: Should You Wish To Admend Or Cancel The Reservation, We Would Respectfully Ask You To Conform The Following Terms: -Up To 31 Days Prior To Arrival, No Penalty Will Be Charged -From 30 To 21 Days Prior To Arrival 15% Penalty Charge On The Entire Stay -From 20 To 14 Days Prior To Arrival 30% Of Penalty Charge On The Entire Stay -From 13 To 07 Days Prior To Arrival 50% Of Penalty Charge On The Entire Stay Less Than 7 Days Prior To Arrival, Penalty Of The Full Charge Of The Entire Stay For Early Departures, Clients Have To Pay The Entire Stay. Please Be Informed That Rooms Will Be Ready From 3.00 Pm; But For Early Arrivals Our Sitting Rooms As Well As Our Gardens And The Park Are Always Ready To Welcome You. Checking Out Within 11.00. Perugia Center Is At Only 5 Km From Our Castle; Florence At 150, Assisi At 25 Gubbio At 40, Siena And The Chianti Area At 90, Orvieto And Spoleto At 95 Urbino At 80 San Marino At 130.We Offer Other Services All Seasons Like: (Horseback Riding (At About 5 Minutes From The Castle), The Taste Of The Fresh New Olive Oil, Cause In Our Property Of 250 Hectars Of Land (An Entire Panoramic Hill With View On The Valley) We Have More Than 5,000 Olive Trees Where In October-November-December We Offer The Possibility To Clients To Go And Pick, Directly By Hands, The Olives >From Ours Olive-Trees And Then Go To The Old Mill, At About 500 Metres From The Castle, And Se How Simples Olives Are Turned Into Fresh New Oil, And The Most Important, Taste It Directly Over Bruschetta' (Tipical Regional Kind Of Very Fresh Home Made Bread). On Request From Our Wine Shop We Organize Wine-Tasting And Cooking-Lessons Made By Our Chef And A Member Of The 'Cordon-Bleu' Circuit Of Cuisine. We Also Organize For Individual Or Small Groups Directly At The Castle (Or At The Airport-Train Station) The Rent Of Cars Or Small-Bus (Van) With Convention Good Prices; That Can Be Converted In Guided Tours Of The Area With Persons That Have The Knowledge Of Foreign Languages. The Charge For The Olive Oil Tasting, Going To The Old Mill, Depends On How Many Persons The Group Is Formed (Normally About 15-20.00 Euro Per Person); In Any Cases Always Remember That The Production Is During November - December So During Other Months We Can Have The Oil Tasting But Not Seeing The Working-Process. About The Charge For Wine Tasting And Cooking Lesson, It Is Again Question Of How Many Persons Is Part Of The Group (For Cooking-Lessons Let's Say 40-50.00 Euro Per Person Per Day To Be Added To The Daily Price Of The Room Comprehensive Of The Food And Money For The Teacher And The Use Of The Kitchen); For A Wine-Tasting Of Several Types Of Wines And Dessert-Vines With A Professional Sommelier That Speaks Foreign Languages It Will Be 15.00 Per Person. In Addition To That In The Afternoons We Organize Guided Visits With A Minibus To: (Ex. The Factory Of Baci Perugina Or To A Factory Of Ceramic Of Deruta Where We Can Allow People To Work Together With Craftsman And Paint Directly Over Ceramics) Or To Places Where The Truffle Is Found By Dogs Than Worked And Prepared On The Spot . CASTELLO DELL'OSCANO MICHELE RAVANO (MANAGER)
















Disclaimer: all info and prices are included solely for the convenience of Users.
italian-hostels.com does not guarantee for any info reported on this website.


www.italian-hostels.com

<!img src="ip2icons_small/.png" alt="" width="18" > webSolutions by Nereal srl p.iva IT08287760964