ONLINE BOOKING SYSTEM

The booking is guaranteed: you will only have to pay 10% of the booking as a deposit; the rest will be paid when you arrive at the hostel/hotel of your choice.

All bookings are in real-time, secure and guaranteed for the traveler. SSL connection is guaranteed by Thawte, world leader in Internet Security.




Mellow Yellow Backpackers

<!A href=javascript:openWindow('/image/2_0030143_1_big.jpg')>


Name
Mellow Yellow Backpackers

City
Brazil / Rio de Janeiro

Category
hostel

Address
Rua General Barbosa Lima 51, Copacabana







Shared room starting from 12,00 EURO per bed per night


Credit cards accepted
Online bookings
<!A href=javascript:openWindow('/image/2_0030143_2_big.jpg')>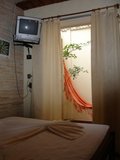 <!A href=javascript:openWindow('/image/2_0030143_3_big.jpg')>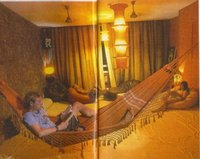 <!A href=javascript:openWindow('/image/2_0030143_4_big.jpg')>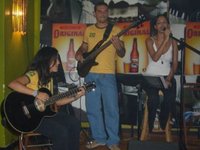 Welcome to Mellow Yellow, Rio's biggest and best backpackers. Rated 1 of the top 10 hostels in the world in October 2006 by customers of a leading hostel booking site.Created by backpackers, we provide everything you'd expect from a first class hostel and much more besides. This includes our famous bamboo bar, our 7 seater spa, a state of the art swipe card security system, & the godsend that is our chillout lounge. As well as this, being just one block from the most famous of all beaches, Copacabana, the location can't be beaten either. We aren't the cheapest hostel but we do offer better value for money than any other. We provide the best tours at the lowest prices, free internet, a free nights stay (for 6+days), R midweek discounts on all our dorm rooms, mellow yellow miles (see below), a free cocktail on arrival, and the best hostel breakfast in Brasil for free. Don't be fooled by cheaper hostels in other areas. You'll spend the difference and a lot more on coming back and forth to copa night and day.Whatever you look for in a hostel we fit the bill. If you want to party we have the best (& cheapest) hostel bar in Brasil, a games room with pool table, bbq parties twice weekly, music playing throughout the hostel, live music and samba shows at the bar, and the best trips and parties in Rio at the best prices.If you're looking for culture we have capoeira shows, samba & forro lessons, portuguese classes, and provide more information on whats going on in Rio than any other hostel.If you just want to chill out, relax and save some cash then we offer great value for money, spacious secure dorms, 2 fully eqipped kitchens, a chillout lounge (with massage service), a spa, a PS2 and a tv room with a selection of over 200 dvds.Well, just in case you haven't already made the decision to book, here's everything in a little more detail;(Pan American Games 13th-29th July - Details at the bottom of the page)THE HOSTELTHE BAMBOO BAR! What better place to chill, soak up some of the Brazilian sounds and savour the flavour of one of the choice cuts from our in-house menu (including chilli, indian & thai curries, lasagne, french crepes & tradtional brasilian cuisine). The quality is there for all to see. Fantastic chilled-out décor, cheap drinks & great specials, cool tunes playing through the night (including live music & capoeira shows) & most important of all, the friendly folk tending to your every need. It's also air conditioned so you don't need to suffer on those hot summer nights. Nowhere else in Rio comes close to competing with this.JACUZZI / SPAWhen we say spa - we mean spa!! This one caters for 7. After a leisurely soak in the tub, make use of one of our sun loungers on the terrace, crack open a beer while the chef gets busy with the BBQ (twice weekly). We've also got a ping pong table if you fancy a game.CHILLOUT LOUNGEOur personal favourite! Having spent just a few days tackling Rio's nightlife we can assure you this will be a godsend.Chilled out décor & lighting, hammocks, beanbags, all combining to make this the most relaxing experience you'll have in Rio. (Check out the photo) TV LOUNGERecover from Rio's nightlife while taking in a movie from the hostels extensive & varied selection. Over 250 DVDs.We're also hooked up to Rio's cable network so no need to miss all your favourite t.v from home. We also have a big screen that is set up in the bar for all major european football games.THE PLAY STATION LOUNGEA PS2 for you to enjoy for free.THE POOL LOUNGEFree Pool table for you to enjoy. Also fully air conditioned.DORMS AND DOUBLESWith attention to detail, we've made every bunk spacious, built in shelves and given each one its own spotlight. The Brazilian themed dorms are unique, with wardrobes, lockers and differing rates fitting every budget. The double rooms are for those that want the socialbility of the hostel but the privacy and the comfort of a hotel.BATHROOMSWe know what it's like hanging around, waiting for the shower at hostels, so we've put in plenty of bathrooms with hot powerful showers to make things more comfortable. We even got clean fresh towels for everybody.KITCHENS2 fully equipped kitchens with plenty of space to create your own culinary delights.RECEPTIONAnything you need to know, our friendly, multi-lingual staff will be happy to help. We pride ourself on having friendlier, better informed, more experienced staff than any other. They will always be there with the best suggestions for days or nights out here in Rio.HERB GARDENWhenever you feel like chilling out or just taking in some fresh air, then step out back into our delightful little herb garden.FACILITIES & OFFERSFREE INTERNETFree broadband internet available 24 hours a day.FREE MEALS, TRIPS & PARTIES Mellow Yellow Miles: 'The Longer You Stay, The Less You Pay'. Earn Mellow Yellow Miles for each and every night you stay and trade them in for free drinks (2 nights), free meals (5 nights) and a variety of free trips and parties (7-17 nights). (Full details given on request)FREE NIGHTS STAYStay at Mellow Yellow for 6 nights and you will receive the next night for free. Most of you will be taking advantage of this offer because everyone ends up staying at Mellow Yellow for longer than planned.MIDWEEK DISCOUNTSBetween tuesday and thursday all of our dorm beds are offered at a R discount.FREE BREAKFASTThe best breakfast in Rio without question...Great selection including freshly squeezed orange juice, coffee, bread, ham, cheese, jams, brasilian fruits & cakes as well. Served until 1PM!! (Check out up until midday as well) FREE COCKTAILOn your 1st night receive your free cocktail at the bar.AIRPORT PICKUPLet us know your flight number and one of our staff will get back to you with the details.SECURITYState of the art entry card system, safety deposit boxes for all & 24/7 security guards, both inside and outside the hostel, in what is one of the safest neighbourhoods in Rio.LANGUAGE CLASSESWe offer Portuguese classes.TOURSMore of Rio's best tours available at lower prices than any other hostel. This we can guarantee! Includes football trips, samba parties, favela parties, city tours, boat parties, inter-hostel paintball battles, christ statue tours, surf trips & a number of other great options that other hostels do not provide.SAMBA / FORRO LESSONSWell your in Brasil so why not learn to dance like a Brasilan. Speak with reception to organise lessons.CREDIT CARDSWe accept all major international cards as payment.SURF / BODY BOARD HIREAnd everthing else you'd expect from a first class hostel………Pan American Games 2007 (13th-29th July)For this periods all of our rooms are available at an increased price of between 40% and 60% dependent on the room type.There is a minimum stay of 3 nights during this period.There is a 6 day package between the 24th and the 29th July. Reservations for the package are only valid upon full payment of the balance to the hostel which needs to be effected at least 2 weeks before the package starts.
















Disclaimer: all info and prices are included solely for the convenience of Users.
italian-hostels.com does not guarantee for any info reported on this website.


www.italian-hostels.com
webSolutions by Nereal srl p.iva IT08287760964